On August 19th, Patio Drummond was the stage for a memorable evening where music, original costumes, and generosity came together for an exceptional cause. Initiated by Yvan Lemaire, President of Patio Drummond, and his friends Alain Guilbeault, Mario Lambert, André Hébert, and Sylvain Lemaire, this evening marked the perfect alliance between entertainment and charity.
A sum that will go a long way for Les Petits Bonheurs
The highlight of the show? An amount of $31,074 was raised in support of the mission of the Center for Social Pediatrics (CPSC) – Les Petits Bonheurs. For this, the Lemaire family will be eternally grateful for the opportunity to be surrounded by a strong network that knows how to mobilize.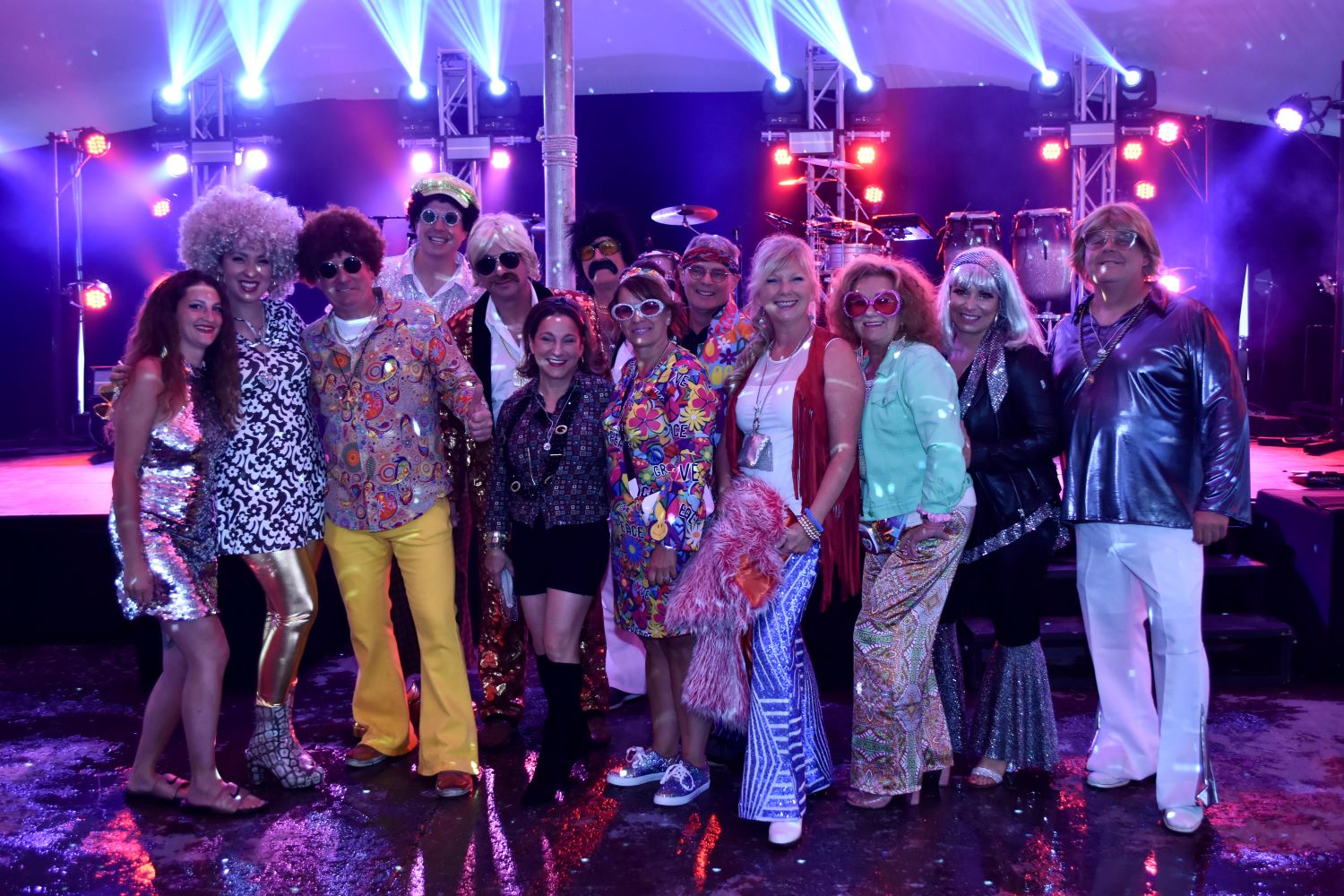 From left to right: Kimberly Carey-Traversy, Alisson Lemaire, Yvan Lemaire, Philippe Girardin, Mario Lambert, Sylvie Heroux, André Hébert, Guylaine Mathieu, Alain Guilbeault, Lise Therrien, Linda Laroche, Mélanie Éthier, and Sylvain Lemaire. (Photo: Valérie Hébert)
Geneviève Lemay, General Manager of CPSC, was present at the event. "This memorable evening, with people of heart, will allow us to accompany new children in social pediatrics and enhance professional services such as art therapy, psychoeducation, and occupational therapy. Our ultimate goal is for every child living in situations of vulnerability to develop to their full potential, not only being cared for but also well-equipped and well-supported to enter the adult world at 18.
This gesture, initiated by the Lemaire family and their friends, of giving their evening for the cause of children in need, demonstrates how children are the greatest natural wealth of a community and how they want it to be more equitable and healthy. It is an act of unquestionable and immeasurable generosity."
A Disco Group and local partners
Starring the famous Boogie Wonder Band, the event, which has been in preparation since 2022, was all the more special thanks to the collaboration of several local partners such as Eventec, Chapiteau Centre du Québec, IGA, Entre 2 TailGates, Génératrice Drummond, Justine St-Martin (TVA), Kimberly C. Traversy, and Alisson Lemaire. Dedicated volunteers and photographer Valérie Hébert also played a key role in the success of the event.
Boogie Wonder Band lit up the stage with two 60-minute sets, while three roller girls added a more than funky touch to the atmosphere. All of this was accompanied by a disco photobooth, a silent auction, and special cocktails created by Martin Ruel's company, Distillerie 29 octobre.
Alisson Lemaire, the event organizer and HR Director at Patio Drummond, said this: "We are more than fortunate to be surrounded by people with a heart who want to associate themselves with initiatives like this one. I sincerely thank all our partners for this magnificent event."
The Patio team is proud to make a difference in the Drummondville community by getting involved with CPSC – Les Petits Bonheurs. ❤️