We help you understand better
When it comes to starting work on a new patio or terrace, various methods and options are available to solidify a structure. Foundations literally support all the weight of your construction. It's important to choose the right product that suits your needs. Today, we're talking about Maxi-Base and Deck Block.
Maxi-Base or Deck Block: What Makes a Good Product for a Patio and Terrace?
Deck Block 
Their use is very simple: the blocks are simply placed on the ground, and the patio is built on them. They are the most affordable option in the short term and are available in most hardware stores. The Patio Drummond patio block allows you to install joists vertically as well as 4" and 6" posts. It optimizes the stability and safety of your landscaping without giving you a headache. It's the master of "quick and well-done"!
Although these are less expensive than Maxi-Base, you may need to reinvest in the structure of your patio in the long term. Since the blocks are on the surface of the ground, they will be subjected to various weather conditions, such as freezing and thawing, which could cause your patio to shift due to ground movement.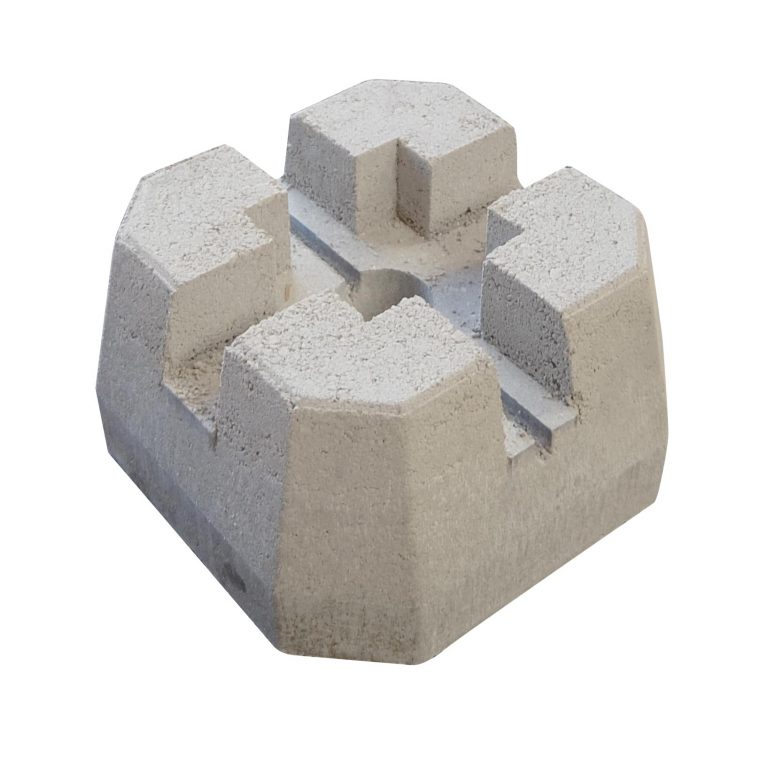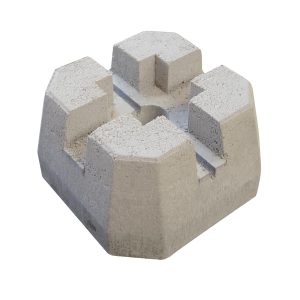 Maxi-Base 
While they require a bit more thought in terms of installation, Maxi-Base is an interesting option for building a patio or terrace. It is a more expensive option when compared to Patio Block, but Maxi-Base is designed to adapt to ground movements.
Maxi-Base can be buried in the ground (or not). That's why we call it our "surface foundation." But what makes it really interesting is its adjustable head. The concrete base is accompanied by an L-shaped head that will support the load and can be adjusted as needed. For any project requiring permanent support that may shift due to freezing and thawing, the adjustable head ensures constant stability.
Oh, and a single Maxi-Base can support up to 2800 lbs. A hybrid between the screw pile and the deck block, the Maxi-Base surface base can support a shed, carport, or even a deck.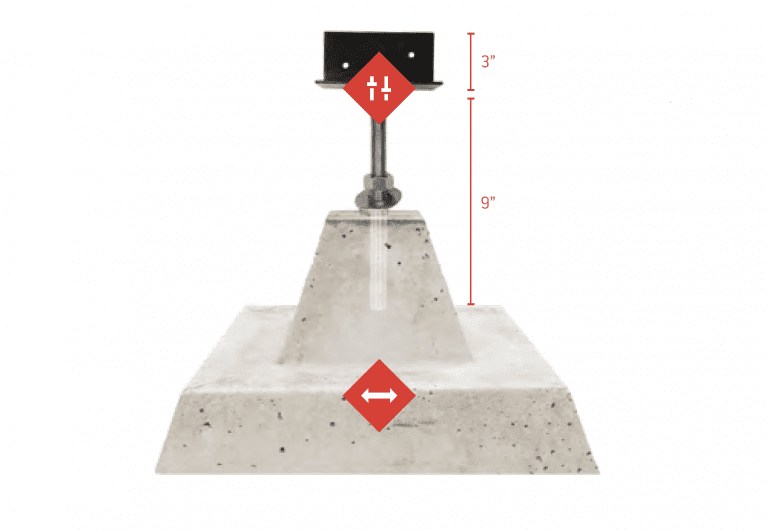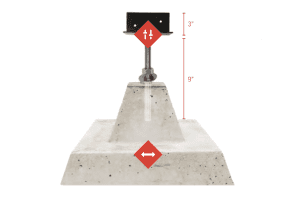 Is Maxi-Base more complex to use than a Deck Block?
Not really! The only complexity lies in the fact that you need to dig a hole if you want to bury the Maxi-Base concrete base.
Installation Methods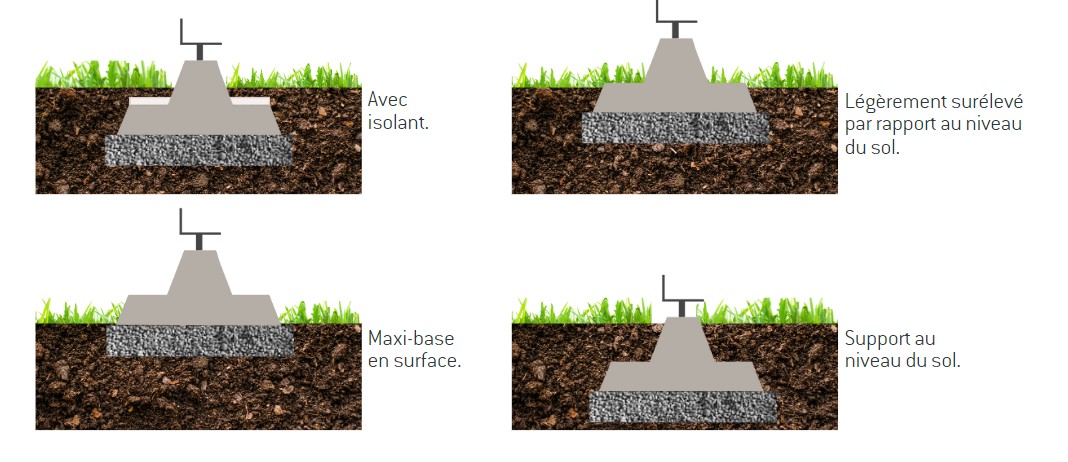 💡In any case, no matter how deep you dig, 3" of 0-3/4 rock under the base will be sufficient.
We made a video, in case you're interested: a video that shows how to use Maxi-Base. 🎥
If we don't bury Maxi-Base, what sets it apart from a Deck Block?
The adjustable head. The adjustable head allows for 7" of adjustments to counteract the effects of ground movements each winter and spring. You can adjust the support of your structure according to your needs.
🚨Attention! The adjustable head does not prevent your structure from moving. It allows you to adjust your construction based on freezing and thawing. By adjusting it, your structure will remain level and work much less, ensuring its durability and safety.
The wider base. The wider base of the concrete base ensures even more stability for your construction.
Once the product is selected, how can I ensure the durability of my patio?
Whether you choose Maxi-Base or Deck Block as a solution to support your structure, if it is not well built, it will not last.
We're not telling you anything new, but in Quebec, our soils are often saturated with water in the spring. They undergo several episodes of freezing and thawing that can easily damage a terrace.
We do not specialize in patio and/or terrace construction. That's why we strongly recommend that you seek the services of construction professionals and plan with them for a few tricks like: spacing between boards, outdoor nails and screws, space to allow moisture and organic residues to pass through, a height that is at least 10 cm lower than your patio door, a sufficient number of beams and joists, etc.
A solution to rotting wood boards, while we're at it?
Patio Drummond manufactures a structural concrete slab that replaces the wood boards on your deck. The Belvedere concrete slab is reinforced with rebar and is installed directly on the joists of your wooden deck. Belvedere slabs do not need maintenance. They do not require sanding (read sanding equipment), staining (read staining equipment), or painting (read painting equipment).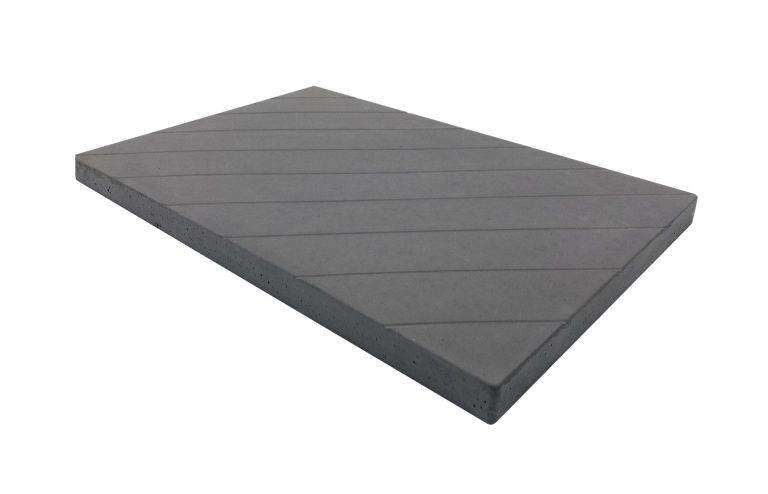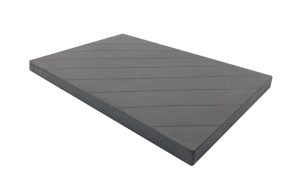 Enjoy all your summers for the next 10, 20, and 30 years without worrying about your deck!