Rustico 2.0 Concrete Wall Blocks
New, improved concrete wall blocks! Still as vibrant and durable as ever, the Rustico 2.0 low wall block now lets you build a straight or rounded wall, a curb or even a fire pit. It's time to let your creativity run wild!
3.29$
Calculateur de produit
Rustico 2.0 Concrete Wall Blocks
Produit sélectionné
Dimensions de la surface
Calculer
Recommencer
Results
Quantité de produits
0
It's been hot, the calculator has overheated! 💦
It is therefore currently undergoing maintenance.
PERTES ET COUPES
Dans ce résultat, un % de produits supplémentaires a été prévu pour couvrir les pertes et les coupes.
Dans cette estimation nous prévoyons:
10% pour les projets de 0 à 1000 pi2
7% pour les projets de 1001 à 3000 pi2
5% pour les projets de 3000 pi2 et plus.
MISE EN GARDE
Notez que ce calcul est accessible uniquement à titre informatif. Utilisez les résultats comme des estimations et non comme des recommandations définitives. Patio Drummond ne peut garantir la qualité des résultats obtenus.
✕
Bring on the garden wall curves with Rustico 2.0 concrete wall blocks
Rustico concrete wall blocks are bevelled to provide you with greater latitude in the placing of each block. Oval flower box: possible! Rounded garden edging: absolutely! Protective tree surround: You bet! Straight decorative wall: Of course! The Rustico 2.0 low wall block will help you create a custom-made landscape, according to your needs, dimensions, and layout. Create a landscape where curves will add to the warm and peaceful feel of your oasis using these rustic-looking concrete blocks, available in three very natural colors.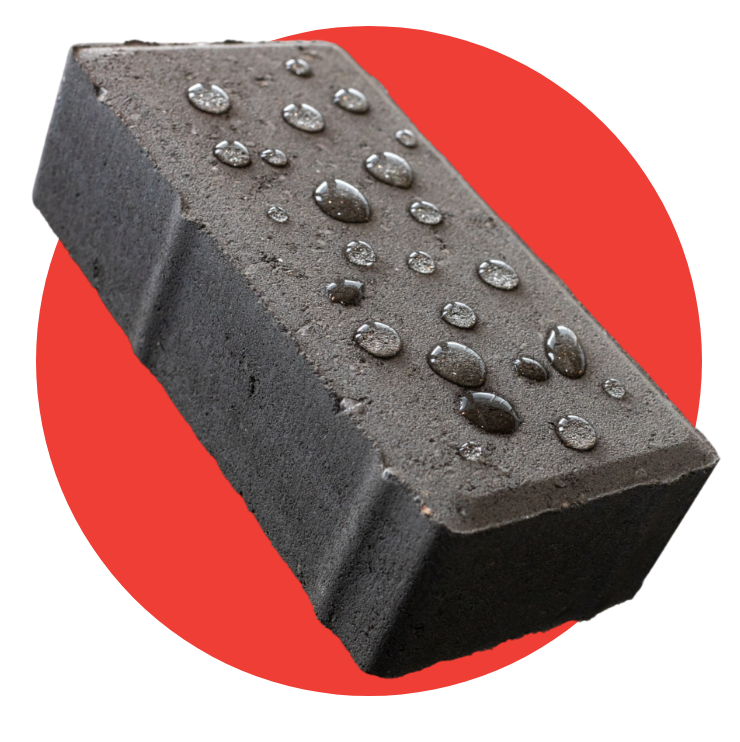 Hydrapel
Our innovative
technology
Admixture that is incorporated directly into the mix of all our drycast products. With Hydrapel, concrete absorbs less water, which increases its resistance to freezing and thawing.Hydrapel protects the products from stains and reinforces the resistance to UV rays, for a vibrant and long-lasting color.
---
Our installation tips
Installing the Rustico 2.0 low wall block
Rustico 2.0 concrete wall blocks are so easily installed, no special tools required, that you'll want to use them everywhere: planters, yard borders, tree surrounds, outdoor fire pits, decorative walls, and low walls for elevated flower beds.
Laying patterns
Patio Drummond Quality
Concrete products provide a lot of flexibility in a landscape design project. They're ready to install the minute you take delivery of them. Our concrete is designed to withstand the harsh Canadian climate's typical freeze/thaw cycles.
Warranty
If your product is damaged, please contact the dealer you purchased your products from, directly. Patio Drummond provides a replacement warranty against manufacturing defects in its products, valid for one (1) year from the date of purchase.
No more secrets, here's all our specifications:
Unit specifications
| | |
| --- | --- |
| Dimension (mm) | 102 x 191 x 143 x 146 |
| Dimension (inches) | 4 x 7 ½ x 5 5/8 x 5 3/4 |
| Weight | 15 lb |
| Facade area | 0.18 ft2 |
| Linear coverage | 0.55 l.f. |
Pallet specifications
| | |
| --- | --- |
| Number of units | 140 |
| Coverage per pallet | 22,4 ft2 |
| Coverage per row | 3,2 ft2 |
| Weight | 1540 lb / 699 kg |
Cubing
| | |
| --- | --- |
| Quantity / row per pallet | 20 |
| Number of row | 7 |
| Pallet dimensions | 40″ x 40″ |
| Product positioning | horizontal |
Looking for the perfect low wall block for your project?
Our concrete wall blocks are available at a hardware dealer near you. Their team is trained by Patio Drummond to give you good advice about completing your project.
Create a review
Rustico 2.0 Concrete Wall Blocks
---
Read all 0 review