Moderno Concrete Wall Blocks
The refined lines of Moderno concrete wall blocks make them perfect for your new decor! An authentic look, insanely elegant and durable: What more could you ask for? Psssst! You can also use it to build an outdoor fire pit!
5.45$
Calculateur de produit
Moderno Concrete Wall Blocks
Produit sélectionné
Dimensions de la surface
Calculer
Recommencer
Results
Quantité de produits
0
It's been hot, the calculator has overheated! 💦
It is therefore currently undergoing maintenance.
PERTES ET COUPES
Dans ce résultat, un % de produits supplémentaires a été prévu pour couvrir les pertes et les coupes.
Dans cette estimation nous prévoyons:
10% pour les projets de 0 à 1000 pi2
7% pour les projets de 1001 à 3000 pi2
5% pour les projets de 3000 pi2 et plus.
MISE EN GARDE
Notez que ce calcul est accessible uniquement à titre informatif. Utilisez les résultats comme des estimations et non comme des recommandations définitives. Patio Drummond ne peut garantir la qualité des résultats obtenus.
✕
Concrete wall blocks suitable for so many projects
Such simple concrete wall blocks, for projects with such magnificent results! The Moderno low wall block's versatility helps bring all of your ideas to life: garden wall, curb, column, planter box, urban garden, flower bed. Got an idea for a landscaping project? We've got the Moderno concrete block to help you bring it to life! And don't let the name fool you. The Moderno garden wall block, with its straight lines and variable texture will suit any trend, and any style.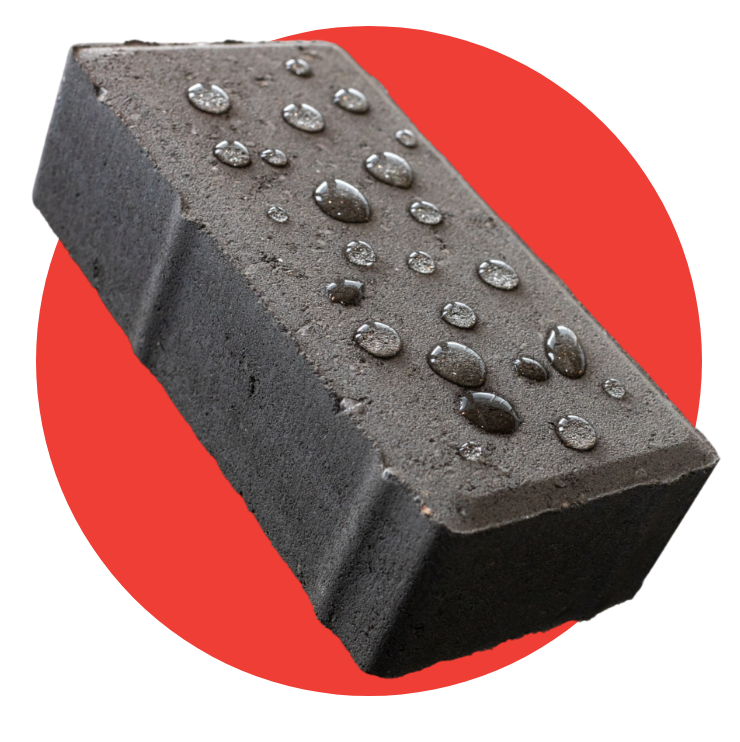 Hydrapel
Our innovative
technology
Admixture that is incorporated directly into the mix of all our drycast products. With Hydrapel, concrete absorbs less water, which increases its resistance to freezing and thawing.Hydrapel protects the products from stains and reinforces the resistance to UV rays, for a vibrant and long-lasting color.
---
Our installation tips
Installing the Moderno low wall block
This low wall block is not only pretty, it's easy to install! No special tools are required to build with concrete wall blocks. The Moderno low wall block is perfect for decorative walls, retaining walls for flowerbeds, for covering posts, planter boxes, urban gardens, tree surrounds, building an outdoor firepit, and even building parking curbs. The only restriction: a maximum height of 3 feet.
Patio Drummond Quality
Concrete products provide a lot of flexibility in a landscape design project. They're ready to install the minute you take delivery of them. Our concrete is designed to withstand the harsh Canadian climate's typical freeze/thaw cycles.
Warranty
If your product is damaged, please contact the dealer you purchased your products from, directly. Patio Drummond provides a replacement warranty against manufacturing defects in its products, valid for one (1) year from the date of purchase.
No more secrets, here's all our specifications:
Unit specifications
| | |
| --- | --- |
| Dimension (mm) | 102 x 152 x 457 |
| Dimension (inches) | 4 x 6 x 18 |
| Weight | 34 lb / 15 kg |
| Surface area | 0.75 ft2 |
| Facade area | 0.50 ft2 |
| Linear coverage | 1.5 fl |
Pallet specifications
| | | |
| --- | --- | --- |
| | IMPERIAL | METRIC |
| Quantity / row per pallet | 90 | 90 |
| Coverage per pallet | 68 ft2 | 6,3 m2 |
| Coverage per row | 13,6 ft2 | 1,3 m2 |
| Weight | 3060 lb | 1388 kg |
Cubing
| | |
| --- | --- |
| Quantity / row per pallet | 18 |
| Number of row | 5 |
| Pallet dimensions | 40″ x 40″ |
| Product positioning | vertical |
Looking for the perfect low wall block for your project?
Our concrete wall blocks are available at a hardware dealer near you. Their team is trained by Patio Drummond to give you good advice about completing your project.
Create a review
Moderno Concrete Wall Blocks
---
Read all 0 review